I had the grandsons over for the weekend and well, there is a sign in  my kitchen that says " A Grandmother Never Runs Out of Hugs or Cookies"  and I had made a deal with the boys that if Granny's TARDIS cookie jar was ever empty, I owed them $5! On the morning of their arrival I whipped up a batch of Welsh Cakes which quickly filled the TARDIS but they just as  quickly demolished them!
Now normally I don't  have a problem keeping cookies in the TARDIS but seems Mother Hubbard's cupboards were pretty low on this particular weekend …therefore no eggs to bake with. ( I subbed in Egg Replacer in the Welsh Cakes)
I did have  a bunch of carrots that needed using up so I googled Egg Free Carrot Cake which resulted in this Ingredients Only  list over at TheAnswerIsCake. When I tried to follow the link to the full recipe I came upon a broken link…hate broken links! S'all good, I know how to bake a cake…
Everyone loved the Carrot Cake! I don't think anyone even noticed the lack of eggs and no one complained that it was not sporting the regular Cream Cheese Frosting they all expect on Carrot Cake;  I didn't think an Egg Free Carrot Cake should be "contaminated" with  a dairy product topping so I just gave it a light dusting of icing sugar. Yum!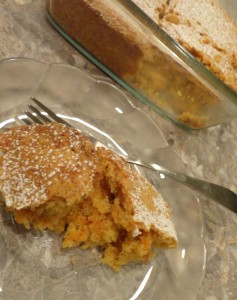 1/2 cup Margarine
1/4 cup Brown Sugar
3/4 cup Sugar
1 teaspoon Vanilla
1 cup Grated Carrots
1 1/4 cups Flour
1 1/2 teaspoon Baking Powder
1/2 teaspoon Salt
1 teaspoon Cinnamon
1/4 cup Almond or Soy Milk
1 cup chopped Nuts, Pecans or Walnuts
2/3 cup Coconut
Preheat oven to 350F.
Lightly spray a 9Inch Square baking dish with vegetable oil spray; coat lightly with flour, tapping out excess flour.
In a small mixing bowl combine flour, baking powder, salt and cinnamon; set aside.
In mixing bowl cream together margarine, brown sugar, sugar and vanilla; beat for a minute.
Stir in grated carrots.
Stir in half the dry ingredients followed by the almond milk.
Add remaining dry ingredients, stir, increase speed to beat for another minute.
Fold in chopped nuts and coconut.
Turn batter out into prepared pan and bake in 350F. oven for 25 – 30 minutes or until pick inserted comes out clean.
Place on wire rack and cool for 10 minutes before turning out of pan to cool completely on wire rack.
Dust lightly with icing sugar and serve.
Yield: 16 Servings