I make these using either chicken drumsticks or chicken wing drumettes.  They are super easy to make and are always well received.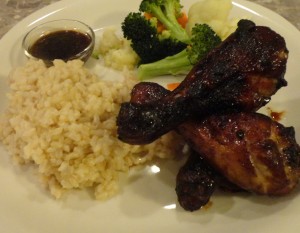 1/2 cup Olive Oil
1/2 cup Soy Sauce
1/2 cup SPLENDA Granular or Sugar Substitute of your choice
2 Tablespoon Ginger, grated
3 cloves Garlic, minced
1/2 teaspoon Hot Chili Flakes
3 lbs Chicken Drumettes or Drumsticks
In large Ziploc Freezer Bag or Tupperware Season-Serve combine olive oil, soy sauce, SPLENDA, ginger, garlic and hot chili flakes.
Add chicken and marinate chicken overnight or for at least 4 hours.
Preheat oven to 350F.
Line 2 baking trays with foil and lightly spray with vegetable oil.
Place marinated chicken prepared baking trays.
Brush with marinade; return marinade to refrigerator.
Bake in preheated oven for 25 minutes.
Baste chicken again with remaining marinade.
Bake for another 20 minutes.
Place under Broiler for a few minutes, if necessary; watch carefully!
Serve with Steamed Vegetables and a Garden Salad if watching Carb intake.
If not watching carbs, serve with Steamed Brown Rice.
Yield: 10 Servings
1 Serving = 407.1 Calories, 25.3 g Protein, 32.6 g Fat, 1.9 g Carbs