I have recently discovered the Dough setting on my Breadmaker and am putting it to good use! Why don't I just make bread from scratch, you ask? Let's face it, I just am not tall enough, nor are my counters low enough to ensure comfortable Kneading…and bread dough begs to be kneaded for 8-10 minutes. For these two reasons I have decided to let my machine do the hard work for me. That isn't cheating, is it?
I really need to unsubscribe from Chocolate, Chocolate and More on Facebook because everyday something comes through the feed that I just HAVE to make! Heaven knows I simply do not have the time or the people on hand to eat all of the stuff I want to make…
That said, I am delighted to have had this recipe for Light and Fluffy Dinner Rolls come through because I often make soups and stews which are so much better with home made bread or buns.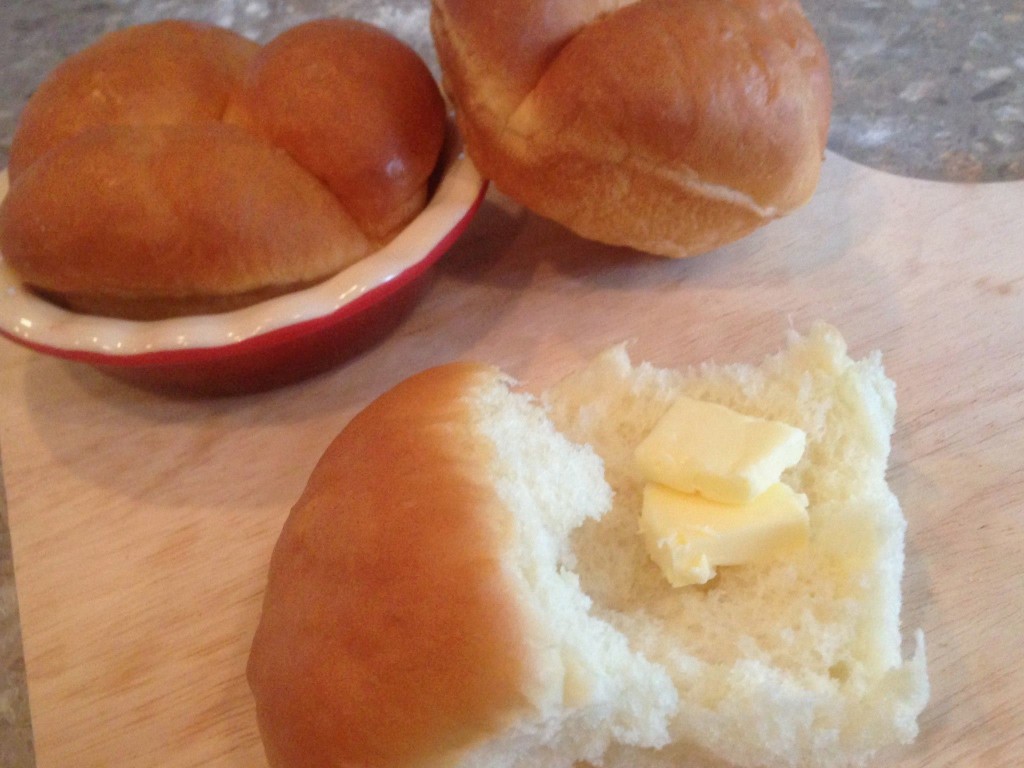 1 1/2 cups Hot Water, from the tap
1/3 (65g) Vegetable Shortening, cubed
1/4 c Sugar
1 teaspoon Salt
1 Egg, well beaten
4 cups Flour
2 1/4 teaspoons Active Dry Yeast  (1 pkg)
In bread mixer pan add ingredients in order listed.
Use the Dough setting on your Bread Maker ( usually 1 1/2 hours)
Turn dough out onto lightly flour surface and knead into a smooth ball.
Portion dough evenly into 12 – 15 pieces.
Shape each portion into a ball and place in greased 9X13″ pan.
Cover lightly with oiled plastic wrap or L-Foil and let rise until doubled, about 45 minutes.
Bake in preheated 375F oven for about 15 – 18 minutes, until golden on top and sounds hollow when you tap on the surface.
Remove from oven, immediately brush with butter.
Turn out onto wire rack to cool completely.
* I used a 9X13″ but portioned my dough for 16 pieces instead of 12! I put the extra dough into 2 lil ramekins and baked along side the big pan of rolls.
If making by Hand:
In bowl of your mixer, combine 2 cups flour, sugar, salt and yeast.
Use paddle attachment and add hot water.
Mix on Low speed until all combined.
Add shortening and egg, continuing to stir until well blended.
Switch to dough hook and add remaining flour.
Knead dough for 10 minutes.
Dough will be very soft and sticky.
Transfer dough to a large greased bowl, turning dough to coat.
Cover with a damp towel and let rise in a warm location until doubled in size.
Turn dough out onto a floured surface.
Roll dough into smooth ball, cut into four equal pieces and then those four pieces into three pieces each to give you a total of 12 rolls.
Shape each piece into a ball and place in a greased 9×13″ pan.
Cover with towel and let rise again until doubled, about 45 minutes.
Bake as directed above.
Yield: 12- 18 Dinner Rolls