A few steps and awfully messy to make these but well worth the effort!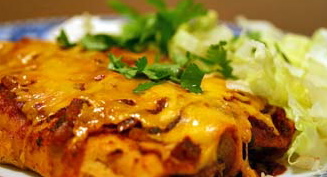 8 Tortillas ( 8″ ones)
1 package Just like Ground Round
1 medium Onion, chopped
1/2 cup Sour Cream
1 cup Monterrey Jack or Colby cheese, grated
2 Tablespoons fresh Parsley, chopped
1 teaspoon salt
Fresh Ground Pepper
Sauce:
 1 800g can Diced tomatoes or Tomato Sauce (puree)
2/3 cup Water
1/3 cup Green Pepper, chopped
1 Tablespoon Adobo Seasoning*
1 clove Garlic, minced
1 Tablespoon Cilantro, chopped
3/4 cup Monterrey Jack or Colby cheese, grated
Sliced Black Olives
Chopped Jalapenos
Mix together Just like Ground Round, chopped onion, sour cream, shredded cheese(s),parsley, S&P; set aside.*(If using ground beef, cook and stir h'burger over med heat just until cooked. Remove from heat and stir in remaining ingreds, cover and put in fridge until ready to use.)
In a large shallow fry pan, heat tomatoes, water, chopped green pepper, Adobe Seasoning and garlic to boiling, stirring occasionally; reduce heat.
Simmer uncovered for 30 minutes until slightly thickened.
Remove from heat.
Preheat oven to 350F.
Dip a tortilla into sauce to coat both sides.
Place coated tortilla on working surface, covered with a large piece of baking paper; spoon 1/4 cup of the Just like Ground Round mixture onto tortilla and roll the tortilla around the filling.
Place in 9X13 inch pan that has been lightly sprayed with vegetable oil spray.
Repeat procedure until you have used all the tortillas.
(If you run out of filling and still have a tortilla left, cut the remaining tortilla into three strips, stack, cut the long strip into narrow 3″ strips which you can throw on top of the enchiladas for the baking stage)
Pour remaining sauce over the enchiladas.
Sprinkle with chopped cilantro, sliced black olives, chopped jalapenos, and grated cheese.
Cook uncovered in 350F oven until bubbly, about 20 minutes.
Garnish with sour cream, and chopped green onions, if desired.
Homemade @Adobo Seasoning
1 tablespoon Salt
1 tablespoon Paprika
2 teaspoons ground Black Pepper
1 1/2 teaspoons Onion Powder
1 1/2 teaspoons dried Oregano
1 1/2 teaspoons ground Cumin
1 teaspoon Garlic Powder
1 teaspoon Chili Powder
Store leftover spice mix in an airtight container.