So my husband in on the Atkins Diet. He is still on the Induction Phase but he does crave a bit of pud after dinner. We discovered that they sell Atkins Bars at the local grocery store and for a little while he was having one of those after dinner. Problem is, he usually has one in his lunch! So I have been scouring the internet looking for Low Carb baked goods. Today was my first go at making low carb bickies.
I found this recipe via Pinterest and thought I would give it a go:
Joy The Baker Flourless Peanut Butter Cookies.
I had a nibble of one and was very pleased that they didn't have a nasty Splenda aftertaste to them! Woot! I made a few changes: I used Splenda White and Brown Sugars, added a bit of Vanilla and topped with a Peanut instead of chocolate.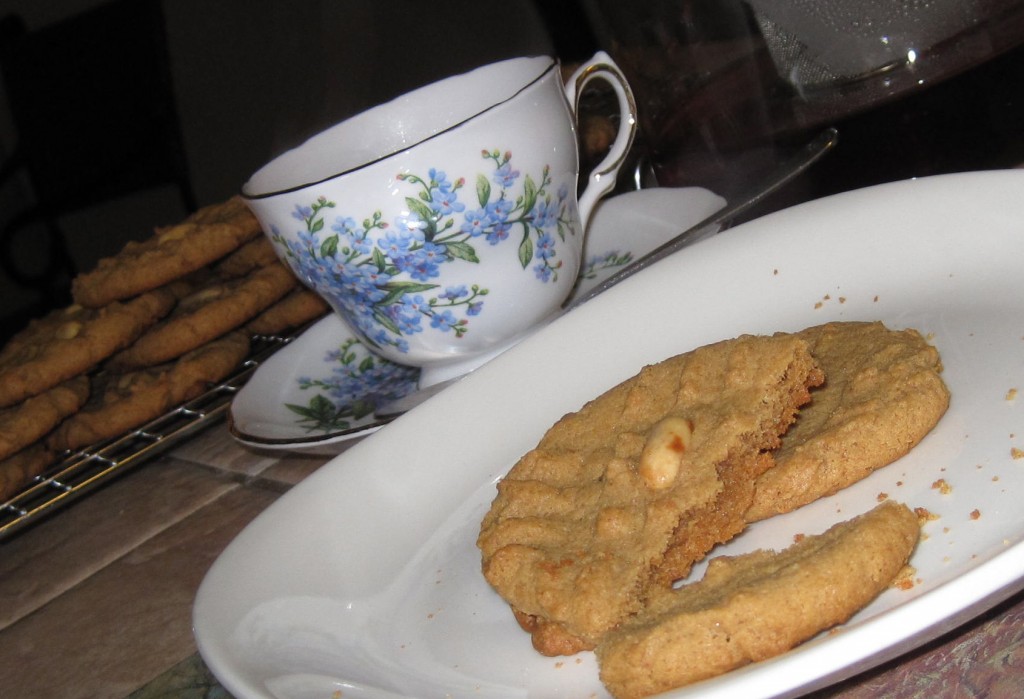 1 cup Peanut Butter
1/2 cup Splenda No Calorie Sweetener
1/2 cup Splenda Brown Sugar
1 teaspoon Vanilla
1 large Egg
1 teaspoon Baking Soda
Preheat oven to 350F.
Lightly spray a cookie sheet with vegetable oil spray or line with parchment paper.
In mixing bowl combine peanut butter, Splenda No Cal Sweetener, Splenda Brown Sugar, Vanilla, Egg and Baking Soda; mix for about 2 minutes.
Use a #2 Pampered Chef scoop to drop mounds of cookie dough onto prepared baking sheets.
Press down on each cookie with a fork, making a criss cross pattern.
Top each cookie with a single blanched peanut.
Bake in 350F oven for 10 minutes.
Allow cookies to cool on the baking sheet for a few minutes before removing them to a wire rack to cool completely.
Makes about 2 dozen