A Sunday morning Breakfast Muffin alongside Bacon and Eggs.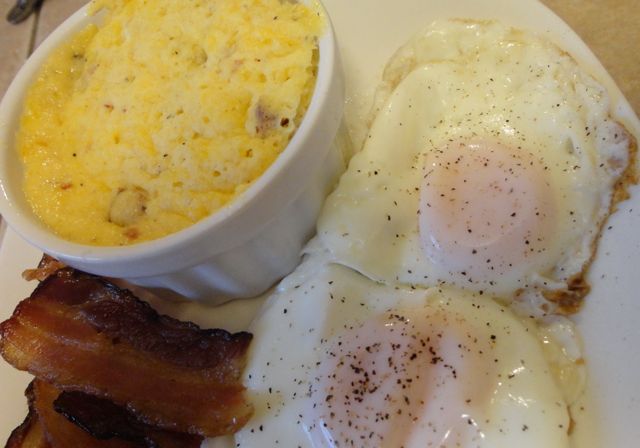 1 teaspoon Butter, melted (I use a scale 0,15 ounce)
1 Egg, lightly beaten (1.75o ounce)
1/4 cup Flax Meal Flour or Almond Flour
1/2 teaspoon Baking Powder
Pinch of Salt
Pinch of Pepper
Dash of Chili Flakes
1 ounce Cheddar Cheese, shredded
1 strip Bacon, crumbled
Lightly spray a 4″ Ramekin with vegetable oil spray.
In large pyrex measuring cup melt butter to just barely melted (5 – 7 seconds) and stir in egg.
Add flour, baking powder, salt, pepper and chili flakes stirring until combined.
Stir in cheddar cheese and bacon.
Pour into prepared Ramekin.
Microwave on HIGH for 1 – 2 minutes depending on the strength of your oven.
Make it an Egg McMuffin: