When Low Carbing you often miss all those yummy bready sides! This will take the edge off the cravings; good to eat with a smear of butter or cream cheese or plain along side a bowl of Taco Soup.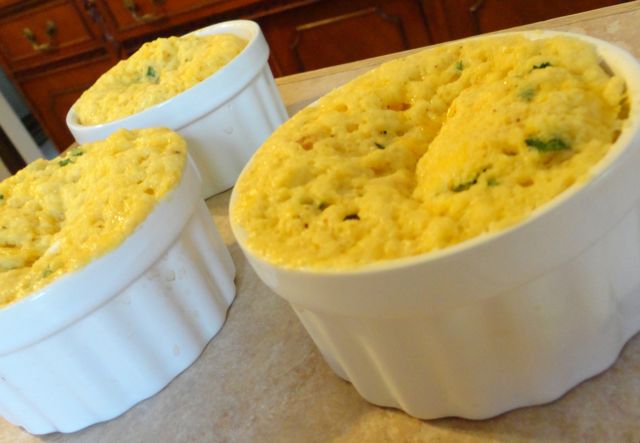 1 teaspoon Butter, just melted (0.15oz)
1 Egg, lightly beaten
1/4 cup Flaxseed Meal or Almond Flour
1/2 teaspoon Baking Powder
Dash of Salt – very easy on the salt
Pinch of Pepper
Dash of Chili Flakes
0.5 oz Sliced Black Olives
0.5 oz Cheddar Cheese, shredded
1 1/2 teaspoon chopped Cilantro
Lightly spray a 4″ Ramekin with vegetable oil spray.
In large measuring cup, melt butter to just melted (5 – 7 sec)
Stir in egg.
Add flour, baking powder, salt, pepper, chili flakes and cilantro, stirring until well combined.
Fold in sliced black olives and cheddar cheese.
Turn out into prepared ramekin and microwave on HIGH for 1 – 2 minutes depending on the strength of your machine.