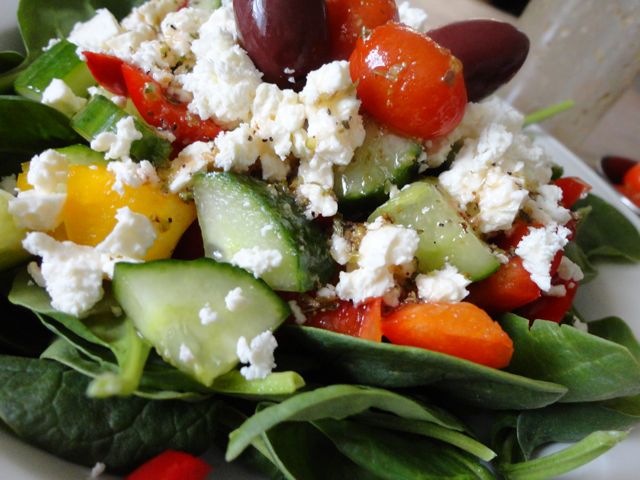 I don't usually measure this stuff…
1/2 cup  Olive Oil
1 clove Garlic, minced (why did I give away my Garlic Press? Oh yea, coz I want a    Pampered Chef one!
1/4 cup Red Wine Vinegar
a splash of Brine from the Kalamata Olives
Salt and Fresh Ground Pepper
1 teaspoon Oregano
1 teaspoon Basil
3 cups Spinach Leaves, washed and spun
1 Long English Cucumber, cut into chunks
1 each, Red Pepper, Orange, Yellow and Green Pepper, chopped
1/2 Red Onion, diced
4 ounces Feta, crumbled
Kalamata Olives
Grape Tomatoes, garnish
Measure all of the ingredients together in a resealable jar, screw on the lid and give it a good shake.
Toss together in a large bowl the spinach, cucumber, peppers and onion.
If serving all of it immediately, go ahead and toss in the feta, dressing and Kalamata olives.
If not serving all of it immediately, I like to just put a serving of the "Greens" in a large pasta bowl, top with a bit of crumbled feta, a few (lot) Kalamata olives and a generous drizzle of dressing.
Greek Salad doesn't hold well which is why I don't add the feta and dressing to a big bowl of prepared "Greens" thereby avoiding the soggy cucumber syndrome!