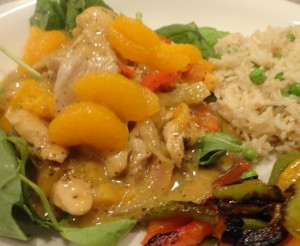 I was flipping through my November Issue of Chatelaine and came upon this recipe in the "it'syourhealth" section on page 155. I had just taken boneless, skinless chicken breasts out of the freezer with absolutely no idea what I was going to make with it. I was only missing the oranges called for in this recipe but did have a can of mandarin oranges in the pantry. I also subbed in a can of coconut milk for the milk.
The husband says the chicken was delicious! I wouldn't know as I remain a Vegetarian … I rely on smell, A LOT, and I grill the husband about taste, texture, presentation…I usually get, "It was….tasty, very tasty." <- A quasi quote from 84 Charing Cross Road
2 teaspoons Butter
1 Onion, sliced
1 teaspoon each: Paprika, ground Cumin, Dried Mint
1/4 teaspoon ground Cinnamon
Salt and Pepper, to taste
1 lb skinless, boneless Chicken Breast, cut into strips
1/3 cup chopped Dried Apricots and/or Raisins
2 cups Coconut Milk (or milk)
2 Tablespoons Cornstarch
1 can Mandarin Orange slices, drained
In large non-stick skillet, melt butter over medium heat.
Saute onion, paprika, cumin, mint, cinnamon, salt and pepper until onion is softened.
Add chicken; saute for 3 minutes.
Add dried fruit.
Whisk a small amount of coconut milk into cornstarch, until smooth; whisk in remaining coconut milk.
Stir into skillet.
Simmer, stirring, until chicken is no longer pink inside, 4 – 5 minutes.
Top with mandarin orange slices.
Serve over a bed of Brown Rice or Whole Wheat Couscous with a Green Vegetable.
Serves 4
Isabelle Neiderer, November 2012, Chatelaine, it'syourhealth, Volume November/12, page 155