The class I work in at school went to the pumpkin patch before Halloween. I asked the students what they do with their pumpkins once Halloween is over? They all basically shrugged their shoulders, gave me a weird look and said they threw them away, or whatever.
Enter story about how you can peel, cut up and cook the pumpkin and turn it into something yummy. Again, the weird looks. Next Question: Who likes pumpkin pie?All their hands shot up into the air. "Well, where do you think the pumpkin comes from?" Realization sinks in.
In honour of our trip to the pumpkin patch and their new found knowledge that you can cook with pumpkin I have been baking up pumpkin-inspired treats for them.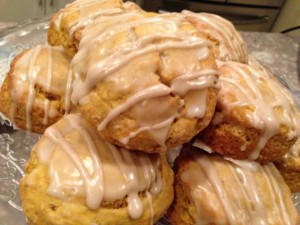 4 cups Flour
1 1/2 cups Sugar
2 Tablespoons Baking Powder
1 teaspoon Salt
1 teaspoon ground Cinnamon
3/4 teaspoon each: Ground Nutmeg, Ginger and Cloves
1 cup Pumpkin Puree (unsweetened canned pumpkin)
3 ounces of Half&Half (Cream)
1 1/2 teaspoons Vanilla
2 large Eggs, lightly beaten
6 ounces cold Butter, cubed
Glaze
1/2 cup Icing Sugar
1 Tablespoon Milk
splash of Vanilla
Spiced Icing
1/2 cup Icing Sugar
1/4 teaspoon Cinnamon
pinch each of Nutmeg, Ginger and Cloves
Milk, to right consistency
Preheat oven to 425F.
Line baking trays with parchment paper or lightly spray with vegetable oil spray and dust lightly with cornmeal.
In Kitchenaid mixing bowl combine flour, sugar, baking powder, salt, cinnamon, nutmeg, cloves and ginger; stir, on lowest setting for about 1 minute.
While that is stirring, combine pumpkin, cream and eggs in a large measuring cup.
Pour cubed butter into combined flour and stir on low speed until mixture resembles coarse crumbs. (If not using a mixer, cut butter into flour mixture with a pastry blender)
Pour in pumpkin mixture and stir just until dough pulls away from the sides of the bowl.
Turn the sticky dough out onto a floured surface and gently knead about 10 times.
GENTLY roll out dough to about 3/4 inch (2 cm) thickness and cut with floured biscuit cutter.
Place close, but not touching, together on prepared baking sheets.
Bake for 14 – 16 minutes in 425F oven, until lightly golden browned.
While scones are baking, lay down two strips of  wax paper, plastic wrap and place cooling racks onto it; this will make your clean up so much easier when you do the final two steps.
Remove from oven, transfer scones to wire rack to cool.
While scones are cooling (about 15 minutes) in small bowl combine first amount of icing sugar, vanilla and milk, stirring until smooth.
Use a pastry brush to brush a layer of glaze onto each scone.
In a small bowl combine icing sugar, cinnamon, nutmeg, cloves and ginger.
Add vanilla and enough milk resulting in a thicker glaze (the consistency of mayo or ketchup)
Load the thick glaze into a piping bag or a sandwich bag with a corner snipped off.
Pipe lines of thick glaze over the first layer of glaze.
Yield: about 18 – 24 Scones, depending on what size you make them
This recipe adapted from:
Recipe Girl