I started making this recipe about 19 years ago but then I stopped working at the school where I was making about 6 dozen of these a week, my own children grew up and left home and I no longer felt the need to make chocolate muffins. Now I am back at that same school and find myself making these again!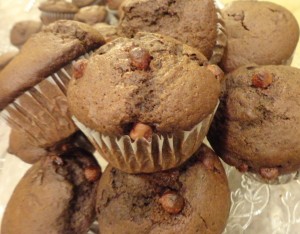 4 cups Flour
1 1/2 cups Sugar
1/2 cup unsweetened Coca
2 Tablespoons Baking Powder
1 teaspoon Salt
1 teaspoon Cinnamon
2 cups Milk
2 large Eggs, lightly beaten
2/3 cup Butter, melted
1 1/2 cups Chocolate Chips
Preheat oven to 400F.
Line 24 muffin cups with paper liners or lightly spray with Pam.
In large mixing bowl whisk together flour, baking powder, salt, cinnamon, sugar and cocoa; make a well in the centre and set aside.
In large mixing cup combine liquid ingredients.
Pour liquid ingredients into well in dry ingredients and stir just until combined.
Fold in chocolate chips.
Spoon into prepared muffin tins. ( I use a #5Pampered Chef scoop)
Bake in 400F oven for 20 minutes.
Remove from oven to wire rack and cool for 10 minutes in the pan.
Turn out onto wire rack and cool completely.
Yield: 24 muffins.