Oh my goodness! I clipped this recipe out of the Vancouver Sun a gazillion years ago and made it quite often when the kids were growing up, though minus the Mushroom Sauce. ( I have two kids who have a strong dislike for mushrooms…one, because the underside looks like gills! ) No worries there though because you can easily sub in another flavour of condensed soup: Cream of Celery, Broccoli Cheddar, Cream of Asparagus, Cream of Broccoli.
Don't eat meat? No worries there either; sub in Yves Just Like Ground Round.
Don't do Dairy? Sub in Soy Cheese, Salsa for the Cream of Mushroom Soup, add a few Tablespoons of Sliced Black Olives, a Tablespoon of Adobo Seasoning omit the Chopped Celery and sub in some Corn Niblets and you have yourself a Mexican Style Fiesta Ring! Too easy!
Now the original recipe called for the biscuit ring to be made from Bisquick mix….I think I bought that stuff once! I just use my resourceful Baking Powder Biscuit Recipe! Especially easy if you have a Kitchenaide Mixer! Throw everything into the mixer (by everything I mean all the powdery stuff) Mix on low to incorporate; add cubed, cold shortening or butter and turn on low again for about 2 minutes until mixture resembles coarse crumbs, then add milk (soy milk) and stir on low speed JUST until combined. Turn out onto floured surface and knead gently about 10 times and roll out dough. Easy peasy.
Oh, and you will see in the photo that I cheat and add Frozen French Fries right on the same baking sheet as the Cheeseburger Ring…just make a salad while this is baking and call dinner preparation Done!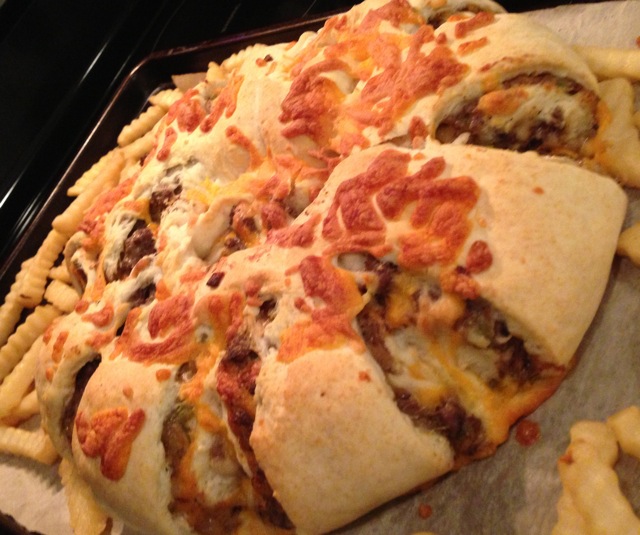 Biscuit Dough using Baking Powder Biscuit Recipe or:
3 cups Bisquick Mix
1 cup Shredded Cheddar Cheese (Soy Cheddar)
3/4 cup Milk (Plain Almond or Soy Milk)
Filling:
1/2 pound Ground Beef (1 package Yves Just Like Ground Round)
1/4 cup finely chopped Celery
1/4 cup diced Onion
2 Tablespoons each finely chopped Green and Red Pepper
1/4 teaspoon Salt
Pepper, to taste
3/4 cup shredded Cheddar Cheese (Soy Cheddar)
1/4 cup Cream of Mushroom Soup
Mushroom Sauce:
Remaining Mushroom Soup
1/2 cup Milk (Plain Soy or Almond Milk)
1/4 teaspoon Worcestershire Sauce (Omit if Vegan)
Salt and Pepper, to taste
Biscuit Dough:
Mix Bisquick and cheese together.
Gradually blend in milk, stirring with a fork to make a soft, slightly sticky dough.
Turn out onto a floured surface and knead gently 8 to 10 times.
Roll into a 14″x10″ rectangle.
Filling:
In a large skillet, with a bit of olive oil, saute onions until soft.
Add chopped celery, finely chopped peppers and ground beef (Just Like Ground Round) breaking up meat with a wooden spoon.
Cook and stir frequently until evenly browned.
Stir in remaining ingredients and heat until cheese melts.
Turn oven on to preheat to 400F.
Line a baking sheet with Parchment paper or spray lightly with vegetable oil spray and dust lightly with cornmeal.
Carefully spread onto prepared dough.
Roll up like a jelly roll, starting from the longer side.
Shape into a ring.
Place on prepared baking sheet.
Slash with a sharp knife, 3/4 of the way through ring, at 1inch intervals.
Bake in 400F. oven for 15 – 18 minutes or until golden brown.
Serve hot with Mushroom Sauce.
Serves: 6
Mushroom Sauce:
Combine mushroom soup, 1/2 cup milk, salt and pepper, Worcestershire sauce in a small saucepan and heat through. Oh, I often add fresh Sliced Mushrooms to the sauce.
If Vegan, omit Mushroom Sauce altogether and serve with a Salsa and Avocado Slices.