The Lentil Loaf recipe that I found eons ago in a Canadian Living magazine is a versatile staple in my Vegetarian lifestyle: sometimes I bake it in a loaf pan, make a Cashew Nut Sauce to go with it; sometimes I scoop the mixture into a muffin tin for single serving portions, wrap 'em up, freeze 'em and use 'em when I need 'em; and finally, my fave, I use it as a base for Shepherd's Pie.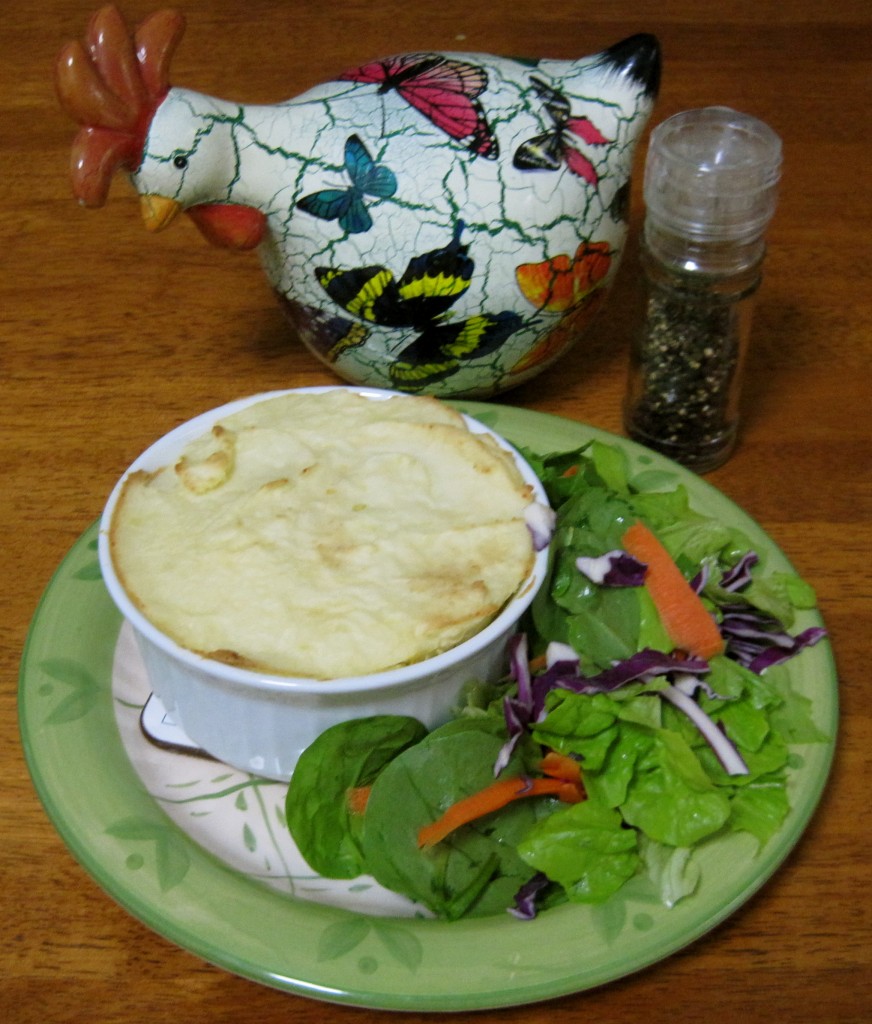 4 Tablespoons Olive Oil
1 Onion, chopped
2 cloves Garlic, crushed
1 1/2 cups Red Lentils, washed and well drained
3 cups Vegetable Broth
2 Tablespoons Lemon Juice
2/3 cup Bread Crumbs
1 Tomato, chopped
2 + teaspoons Basil
1 teaspoon Salt
1 Egg, lightly beaten (optional)
1/4 cup Water
5 – 6 potatoes
Heat olive oil in a medium size saucepan with tight fitting lid.
Cook onion in heated oil for 2 – 3 minutes; add garlic and continue cooking for another few minutes.
Stir in lentils until coated.
Add vegetable stock and bring to a boil.
Reduce heat and simmer, covered for about 30 minutes until lentils are tender.
Remove from heat, stir well, mashing any whole lentils remaining.
Stir in lemon juice, bread crumbs, tomatoes, basil and salt, water and egg, if using.
If making Shepherd's Pie, Cook potatoes now to make your favourite Mashed Potatoes
Preheat oven to 350F now.
Prepare an 8x4inch loaf pan; spray lightly with vegetable oil spray.
or
Prepare Muffin tin; spray 12 large muffin cups with vegetable oil spray
or
Prepare 4 Ramekins: spray lightly with vegetable oil spray
Scoop Lentil Mixture into your baking dish(es)
If making Shepherd's Pie, top Lentil Mixture with a layer of Frozen Peas or Frozen Mixed Vegetables and top with Mashed Potatoes.
Bake in 350F:
Loaf  –  1 1/2 hours, until knife inserted comes out clean
Muffin Tin  –  40 – 45 minutes, until pick inserted comes out clean
Shepherd's Pie  –  35 – 45 minutes, until Lentil layer is Bubbly and Potato topping is golden.
For an unconventional Shepherd's Pie, coz my Aussie Husband dislikes Mashed Potatoes! (shakes head, who doesn't like mashed potatoes??)
I parboiled some baby potatoes, drained, sliced and threw them onto a layer of Frozen Peas on top of the Lentil Mixture. Before baking for 30 minutes, I lightly brushed the potatoes with some melted butter and sprinkled the whole thing with fresh ground Pepper and a bit of dried basil.