The boys in this house enjoy Chicken Adobo but I don't like frying chicken; I was pleased to find this recipe for Slow Cooker Adobo Chicken, which did not ask for me to first brown it in oil.
I reckon it is pretty adaptable to what you have on hand too: I was in desperate need of grocery shopping and only had one onion and part of a red onion on hand to work with, luckily I had just purchased Rice Vinegar so had that on hand – in the past I have subbed in regular white vinegar. That said, I do hope that it tasted alright? Both the guys said it was good. I asked for more specific details but they couldn't come up with any! (I don't eat meat so I have no idea how it tasted. I thought it looked better than the stove top version I make and I also liked the consistency of the sauce. I removed the chicken to a serving dish, poured the liquid into a small saucepan and reduced it to a thicker consistency to satisfy my own sensibilities.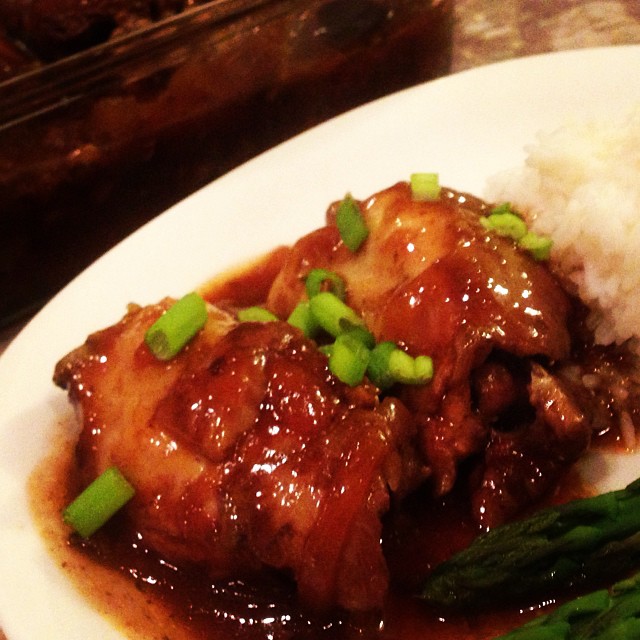 4 Onions, halved and thinly sliced
4 cloves Garlic, minced
1 Tablespoon Grated Ginger
1 Bay Leaf
3 lbs Bone In, Chicken Thighs
3/4 cup Soy Sauce
1/4 cup Rice Vinegar
1 Tablespoon Sugar
1/2 teaspoon freshly ground Black Pepper
Steamed Rice
Place onions, garlic,  ginger and bay leaf in an even layer in the slow cooker.
If Chicken Thighs have skins, remove skin and visible fat; arrange chicken in an even layer on top of the onions et al.
Whisk together the soy sauce, vinegar, sugar and pepper; pour it over the chicken.
Cover and cook until the chicken is cooked through and falling off the bone, about 4 – 5 hours on LOW.
Transfer Chicken to serving dish and cover with foil.
Pour liquid into a small saucepan, fish out bay leaf and discard; bring to a boil.
Continue boiling to reduce to desired consistency.
Pour over Chicken, sprinkle with chopped green onions and serve alongside hot Steamed Rice.
Serves 4 – 6