I wanted to make Luke Breakfast for Dinner but didn't have any bread in the house. Luke doesn't like to mix his savoury with his sweet so I couldn't make, you know, regular pancakes. But, hey, I saw a post the other day for Ham and Cheese Pancakes…I don't remember where I saw it but I have a pretty good grasp on how to make a basic pancake and let's see, what's in the fridge? Broccoli, cheddar, tomato….yup, I have it. Broccoli and Cheddar Whole Wheat Pancakes with Tomato Sriracha Yogurt.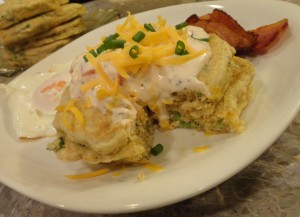 1 cup Flour
1 cup Whole Wheat Flour
1 Tablespoon Baking Powder
1 teaspoon Baking Soda
1 teaspoon Salt
1/4 cup Vegetable Oil or Butter, melted
2 Eggs, lightly beaten
1 1/2 – 2 cups Almond Milk or Milk
3 stems Broccoli, finely chopped
1/4 cup Cheddar Cheese, grated
2 Green Onions, chopped
1 cup Greek Style Yogurt
1 Roma Tomato, chopped
1 1/2 teaspoons Sriracha Sauce
1/4 teaspoon Salt
Pepper, to taste
Heat electric griddle to 350F.
In mixing bowl combine flour, whole wheat flour, baking powder, baking soda and salt.
In a small bowl combine vegetable oil, eggs, 1 1/2 cups milk; add all at once to dry ingredients and stir gently, just until combined, adding more milk if needed to get right consistency. ( I never measure milk…just pour!)
Fold in chopped broccoli, shredded cheddar and green onions.
Drop about 1/3 cup of batter onto lightly greased griddle, smoothing batter out a bit with the back of your spoon. I can usually cook 6 pancakes at a time on my griddle.
Cook until bubbles form and start to pop, about 3 – 4 minutes, before turning over.
Continue cooking for another 3 – 4 minutes.
Transfer to serving platter and repeat with remaining batter.
While pancakes are cooking, combine yogurt, chopped tomato, sriracha sauce and salt in a small bowl.
To serve, stack two or three pancakes on plate, top with Tomato Sriracha Sauce, a bit of shredded cheddar and chopped green onion.
Makes 8 pancakes.