I had made some Baked Brown Rice a few days ago  and left with quite a bit leftover; had a scour through the fridge to see what I could make using the rice. hmmm…let's see: celery, onions, carrots, edamame…Fried Rice! Minus the typical fish sauce and eggs you find in most Fried Rice offerings. Yum!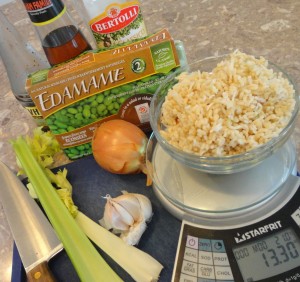 1 Tablespoon Olive Oil
1/2 Onion, diced
2 cloves Garlic, minced
1 1/2 teaspoons Ginger, grated or 1/2 teaspoon dried Ginger powder
2 stalks Celery, sliced on the diagonal
2 Fresh Carrots, scrubbed and sliced thinly on the diagonal
8 ounces Frozen Edamame
2 Tablespoons Soy Sauce
1 1/2 teaspoons Sesame Oil
2 cups cooked Brown Rice
Fresh Ground Pepper, to taste
In a small bowl or a measuring cup combine soy sauce, sesame oil and ground pepper; set aside.
In large (12″ or 30cm) deep skillet, heat olive oil over med-high heat.
Add onions and cook for about 3 minutes.
Increase  heat slightly and add minced garlic, ginger, celery, carrot and cook for about 3 minutes, stirring constantly.
Add rice, the soy sauce mixture and edamame; stir constantly until heated through.
If desired, garnish with a sprinkle of sesame seeds and a bit of sliced green onion.
Serves 4