We made this at school a few weeks ago and I was eager to try it at home. I used Chef Nathan's presentation method but used a different recipe for the stuffing. I tweaked the recipe a bit and added garnishes.
Please feel free to hop over to the original Zucchini Boat recipe.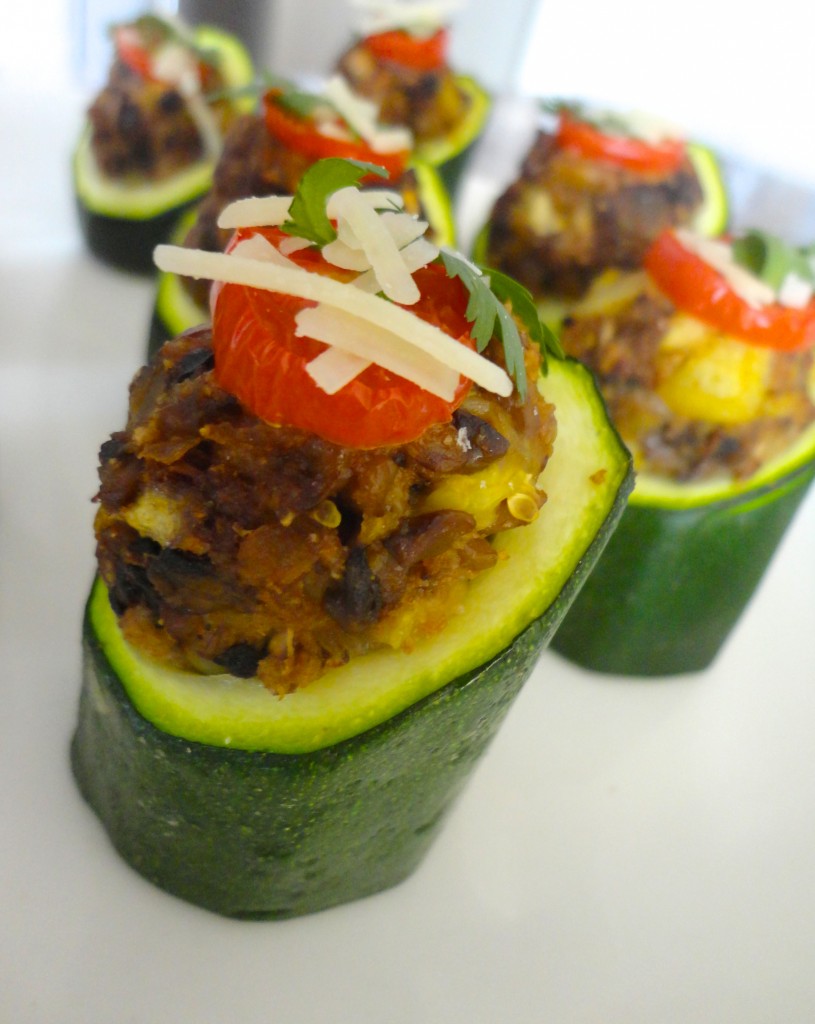 1 Tablespoons Olive Oil
1/4 cup Shallots,  finely diced
1 clove Garlic,  finely diced
3 Small – Medium Zucchini, cut into chunks – flat bottom, angled top,    scoop zucchini out of the centre and reserve
8 oz. Mushrooms, finely diced
1 Tablespoon Balsamic Vinegar
3 Tablespoons Bread Crumbs
2 Tablespoons Parmesan Cheese
3 Cherry Tomatoes, sliced
Cilantro
Parmesan Cheese
Preheat oven to 350F.
Line a baking tray with parchment paper; set aside.
In saute pan, on medium-high heat, heat olive oil.
Add diced shallot and cook for a minute or two.
Add diced garlic and continue cooking for a few minutes.
Add finely diced  reserved zucchini pulp.
Add diced mushrooms and cook until mushrooms are softened, about 10 minutes.
Remove from heat and add balsamic vinegar, bread crumbs and parmesan cheese; mix thoroughly.
Spoon equal amounts of stuffing into each zucchini cylinder; top each with a slice of cherry tomato.
Bake for 10 – 15 minutes.
Remove from oven, garnish with fresh cilantro and a sprinkling of parmesan cheese.
Serves 4