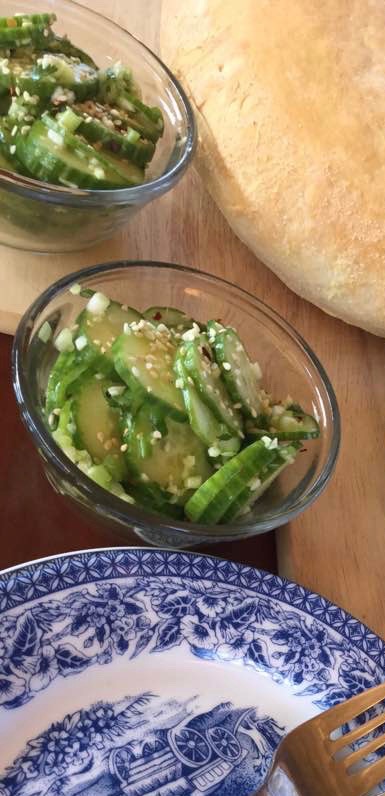 So having moved off-grid is challenging how I do kitchen stuff. For one, I am meant to only go grocery shopping once every 2 months or so. Now, as a Vegetarian? That's a lot of produce to purchase! And you can well imagine that there is no way that much produce is going to keep that long even if I DO store it in Tupperware Fridge Smart containers! I have planted garden greens and stuff in my greenhouse but that was only 3 weeks ago so I am not able to enjoy its bounties just yet.
Anyway, one of the produce purchases I made was 4 LE Cucumbers. Now if the weather was nice and cold up here like it's supposed to be then maybe the cukes would have lasted longer but it ISN'T cold so now I have to find ways to use up all my precious produce!
Another tricky thing? My husband doesn't really like cucumbers! I love 'em but there are only so many cukes a girl can eat! Well, thankfully I still have internet access out here in the middle of no where; I googled cucumber recipes and found this one over at Two Peas & their Pod(s)  whom I have been following for years so always trust their recipes!
Oh, I suppose I should have mentioned that we use a cold room and not a fridge in the winter to conserve propane. Hence my lamentations that the weather is not all that cold here at the mo. If I am to believe this thermostat, it is a balmy 10C outside!!!! What?? We are high up in the Chilcotin region of British Columbia and it is supposed to be COLD here.  I digress. I was pleased to find their Asian Cucumber Salad. And much to my delight, Luke loved it. He even said, "Hey, there's ginger in here, right?" Now normally he is like Emile in Ratatouille and eats any and everything without a lot of regard to what goes into a recipe so I was impressed.
Right, the recipe! Please do go over and visit The Two Peas! They have a great site and some GREAT recipes!
Asian Cucumber Salad
1 Long English Cucumber, thinly sliced
Salt, to taste
2 Tablespoons Rice Wine Vinegar
a pinch of Sugar
1 teaspoon Sesame Oil
1 Tablespoon fresh Cilantro, chopped
2 Green Onions, thinly sliced
1 small clove Garlic, minced
a smidge of fresh Ginger, peeled and finely chopped (less than 1/8 tsp, all up)
1/2 Tablespoon Sesame Seeds
Red Pepper Flakes, to taste
Place sliced cucumbers in a small bowl and sprinkle with salt; set aside.
In a small bowl whisk together the rice wine vinegar, sugar, sesame oil, cilantro, green onions, garlic and ginger; drizzle over cucumbers.
Sprinkle salad with sesame seeds and red pepper flakes, to taste.
Serve Immediately.
Serves 2