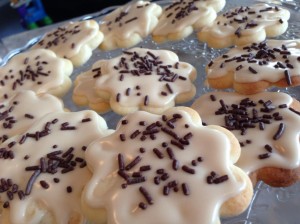 1 cup butter, softened
1 cup sugar
1 large egg
2 tsp vanilla
2 tsp baking powder
3 cup flour
1 tsp salt
Preheat oven to 400F
In small mixing bowl, combine flour, baking powder and salt; set aside.
Cream butter with sugar until light and fluffy.
Add egg and vanilla and continue beating until well blended.
Add in flour mixture a cup at a time, stirring well after each addition.
Do not chill dough. Divide dough into 2 balls. On a floured surface, roll each ball into a circle approximately 12 in. wide and 1/8 in. thick. Dip desired cookie cutter in flour before each use. ( I like those nesting Tupperware ones!)
Sprinkle tops with raw sugar or sprinkles.
Bake cookies on ungreased cookie sheet 6-7 minutes or until cookies are lightly browned.
Scrape cookie sheet before next batch in order to clear off melted sugar bits.
Cool cookies completely on a wire rack.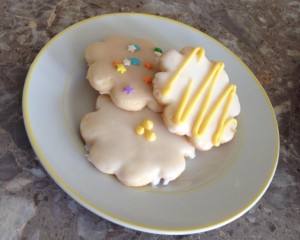 For an interesting twist:
Add 2 Tablespoons Epicure Summer Fruit Dip Mix to the Flour mixture
Add 1 Tablespoon Pink Lemonade Concentrate when you stir in the Egg.
Flavour your Simple Glaze with
2 Tablespoons Raspberry Juice (just squish a enough raspberries to give you 2 Tbsp.)
1 Tablespoon Pink Lemonade Concentrate