A bowl of Potato Soup on a rainy day is incredibly satisfying!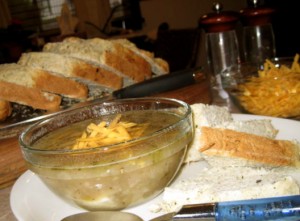 2 Tablespoons Olive Oil
1 Onion, chopped
4 cloves Garlic, crushed
2 large stalks of Celery, diced
3 litres Vegetable Broth
12 medium Potatoes, White or Red, a combination of the two
1 Tablespoon Parsley
1 1/2 teaspoons Oregano
1 teaspoon ground Sage
1 teaspoon ground Thyme
1 1/2 teaspoons Salt
Freshly ground Pepper, to taste
Shredded Cheddar Cheese, about 1/8 cup per serve
1 Tablespoon crumbled Bacon Bits for each serve
Sautee onion over medium high heat for a few minutes.
Add garlic and continue cooking for a few more minutes.
Add diced celery, cook for another 4 – 5 minutes, stirring often.
Add vegetable broth and slowly bring to a boil.
While bringing the broth to a boil, peel and cube potatoes; carefully add to liquid. (If you prefer, you can leave the skins on and just give them a good scrub)
Add the spices in the order given, stir and bring the whole to a boil.
Reduce heat and simmer for 1 to 1 1/2 hours.
Using a potato masher, mash some of the potatoes before serving.
Top each serving with Shredded Cheddar and Bacon Bits, serve with warmed Crusty Bread.