A quick meal to throw together on a busy weeknight.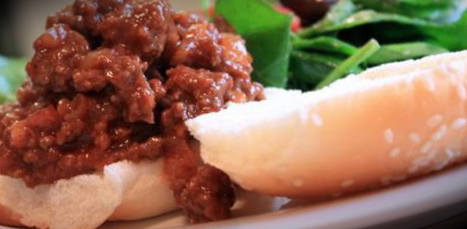 1 lb Yves Just Like Ground Round
1 medium Onion, chopped
2 cloves Garlic, minced
1/3 cup chopped Celery
1/3 cup chopped Green Pepper
1/3 cup Ketchup
1/4 cup Water
1 Tablespoon Worcestershire Sauce
1/2 teaspoon Salt
Fresh ground Pepper
1 1/2 teaspoons Oregano
dash of Red Pepper Sauce
6 Burger Buns, split
Cheddar Cheese Slice
Saute onions in 10inch skillet.
Add garlic and continue cooking for another few minutes.
Add ground beef and cook until beef is evenly browned.
Stir in remaining ingredients except split buns.
Cover and cook over low heat 10 – 15 minutes or just until vegetables are tender.
Lightly toast split buns with a slice of Cheddar cheese on each.
Fill buns with beef mixture.
Serve with Garden Salad.