After a long day all you want to do is veg-out  in front of the fire.  This is a super easy and super quick meal to throw together to get you back in front of the fire in no time at all.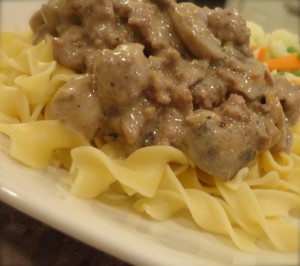 1 lb Ground Beef
1 small Onion, chopped
2 cloves Garlic, minced
1/4 cup Butter
2 Tablespoons Flour
Salt and Pepper, to taste
15 Mushrooms, sliced
1 (10 1/2 oz) can condensed Cream of Celery or Mushroom Soup, undiluted
1 cup Sour Cream or Greek Style Yogurt
1 1/2 teaspoon Tarragon leaves, crushed
Hot Cooked Pasta
Saute ground beef, onion and garlic in butter over medium heat in a large skillet.
Stir in flour, salt, pepper and sliced mushrooms; continue cooking for another 5 minutes, stirring often.
Stir in  soup, add a bit of water if you feel it is too thick, bring to a boil, reduce heat and simmer, uncovered for 10 minutes.
Stir in sour cream and tarragon;  heat through.
Serve over pasta.
Serves 4 – 6