These yummy muffins borrow their flavour from Hot Cross Buns and are infinitely easier to make!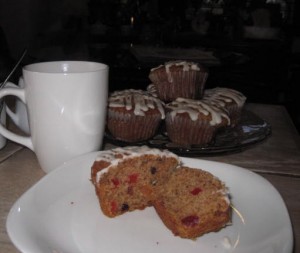 2 cups Flour
1 teaspoon Baking Powder
1 teaspoon Baking Soda
3/4 teaspoon Salt
1 teaspoon Cinnamon
1/2 teaspoon Nutmeg
1/2 teaspoon Cloves
1/4 teaspoon Ginger
1/2 cup Currants
1/2 cup Glazed Mixed Fruit
1/2 cup Butter, softened
1/2 cup Sugar
1/4 cup Brown Sugar
1 Egg
1 cup Buttermilk
1 teaspoon Vanilla
1 1/2 teaspoons Bundaberg Rum (or Captain Morgan's Spicy Rum) (optional)
Preheat oven to 400F.
Line 12 cup Muffin tin with paper liners.
In large mixing bowl combine flour, baking powder, baking soda, salt, cinnamon, nutmeg, cloves and ginger; make a well in the centre.
Stir in glazed mixed fruit and currants; set aside.
In small mixing bowl, beat butter until smooth; add sugar and brown sugar  and stir until well blended.
Add egg, vanilla. Add rum if using.
Stir in buttermilk; pour liquid ingredients all at once into dry ingredients.
Stir just until combined, batter will be lumpy.
Use a 5 ounce Pampered Chef scoop to fill muffin cups.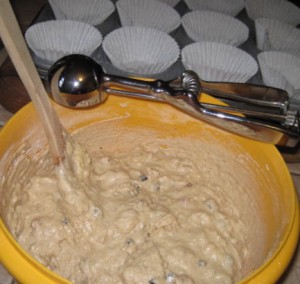 Bake in preheated oven for 20 – 25 minutes.
Remove from oven and let cool in muffin tin on wire rack for 10 minutes.
Turn out muffins to cool completely on wire rack.
When cool, drizzle with Glaze.
Glaze
1 1/2 cup Powdered Sugar
1/2 teaspoon Vanilla
1/2 teaspoon Bundaberg Rum
1 + Tablespoon Milk
Combine all ingredients in a small bowl and stir until smooth adding enough milk to get consistency desired.