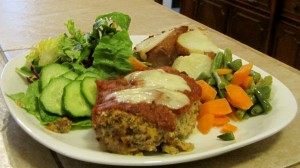 If you live in the Fraser Valley, British Columbia start by getting your Tomato Basil Chicken Breasts at Fraser Valley Meats
4 Tomato Basil Chicken Breasts
350 ml Greek Style Yogurt
2 cups Seasoned Bread Crumbs
1 cup Tomato Basil Sauce
8 small slices  Kraft Havarti Cheese
Coat chicken breasts in yogurt, place in shallow casserole dish, cover and let sit in the fridge for a few hours.
Preheat oven to 400F.
Lightly spray a casserole dish with vegetable oil spray.
Put seasoned bread crumbs on a plate.
Remove chicken breasts from yogurt, brushing some off, but leave a bit on.
Dip in seasoned bread crumbs to coat well, roll over and continue coating until all sides are completely coated.
Place in prepared casserole dish; repeat with remaining chicken breasts.
Bake in preheated oven for 20 -25 minutes, or until a thermometer inserted reads 165F.
Once chicken is cooked through, spoon 1/4 cup tomato basil on each chicken breast, gently spreading over the surface.
Top with Kraft Havarti Cheese slices and return to oven just until the sauce is heated and the cheese is melted, about 5 -7 minutes.
Remove from oven, serve with Roasted Potatoes, Steamed Asparagus and Garden Salad.