This recipe is adapted from an Orange Raisin muffin recipe given to me years ago by Daniella.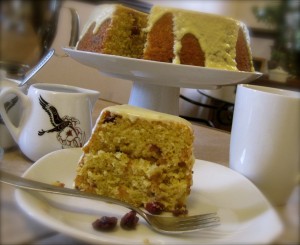 3 Oranges, peeled and quartered
1 cup Strong Orange Juice made from Concentrate
1 cup Butter, melted
2 Eggs
1 teaspoon Vanilla
3 cups Flour
2 teaspoons Baking Powder
1 teaspoon Baking Soda
3/4 teaspoon Salt
1 cup Sugar
1/2 Brown Sugar
1 cup Dried Cranberries
Preheat oven to 350F
Lightly spray a 12 cup Bundt pan with vegetable oil spray and  dust with flour.
Puree quartered oranges in blender.
Add orange juice, melted butter, vanilla and eggs, pulse a few times to combine.
In large mixing bowl sift together flour, baking powder, baking soda and salt.
Stir in sugars and cranberries.
Add liquid ingredients all at once and stir just until combined.
Spoon into prepared Bundt pan and bake in preheated oven for 50 – 60 minutes.
Remove from oven and immediately run a small metal spatula around the edges; cool in the pan for 5 – 10 minutes.
Turn out onto wire rack and cool completely.
Frost with Orange Glaze
2 Tablespoons Butter, softened
2 cups Powdered Sugar
1 – 2 Tablespoons Orange Juice
In small mixing bowl, stir butter until smooth; add 1 cup of powdered sugar and stir well.
Add a Tablespoon of orange juice, continue stirring.
Add another 3/4 cup of powdered sugar and another Tablespoon of orange juice, stir well.
Add the last bit of powdered sugar, stirring until smooth.
Spread on cooled coffee cake.