What to do with all that Pumpkin created from post-Halloween Jack-o-Lanterns? Sure you could make a whole lot of pumpkin pie but that might soon have YOU looking like a rotund lil Jack-o-Lantern!
I made Pumpkin Spice Muffins last week which were quite yummy and thought, "Oh, hey, Pumpkin Spice Pancakes!"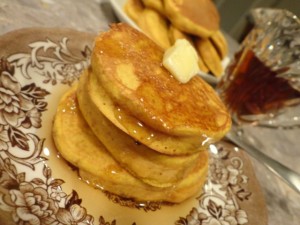 1 3/4 cup Flour
2 teaspoons Baking Powder
1/2 teaspoon Baking Soda
1/2 teaspoon Salt
1 teaspoon Cinnamon
1/4 teaspoon each: Nutmeg, Ginger, Cloves
2 Tablespoons Brown Sugar
1 large Egg, lightly beaten
1/2 cup Pumpkin Puree
1 cup Milk
1 teaspoon Vanilla
2 Tablespoons Butter, melted
In Kitchenaid mixing bowl combine flour, baking powder, baking soda, salt, spices and brown sugar; mix on low speed for a minute.
In small mixing bowl combine beaten egg, milk, pumpkin puree, melted butter and vanilla; pour all at once into dry ingredients.
With mixer on low speed, stir just until combined.
Spoon small dollops (I used a #3-scoop) of batter onto preheated 350F griddle and cook for 2-3 minutes, flip and continue cooking for another 2-3 minutes.
Serve warm with butter, maple syrup and whipped cream or cinnamon sugar.