A little while back my younger daughter sent me a text asking me how to make pancake bites; I guess she had seen the idea somewhere in cyberspace! I googled it myself and sent her a link but didn't bookmark it, thinking I would never make them. As it turns out, I now regularly cook for a grade school class and am always looking for quick, easy breakfast or healthy snack ideas! Now I wish I HAD bookmarked it. S'all good, I just googled "pancake bites" again and followed the basic directions at Bakerella to create my own version of YUMMY! Oh my! When I was turning them out to cool I could not help but eat at least half a dozen of them!
I really like Pancake Bites because they are easier to eat out of hand over regular mini pancakes. Go ahead, make these, and I dare you to eat just one!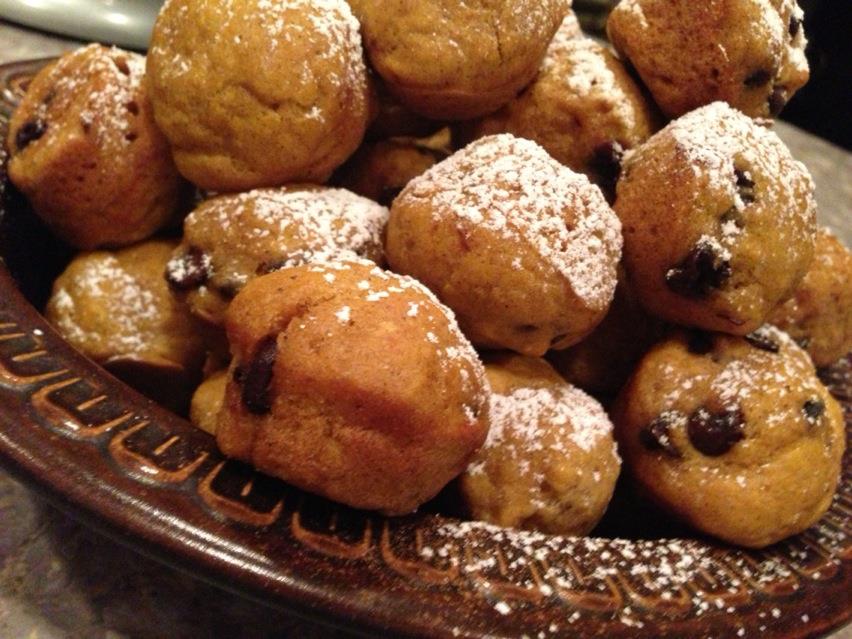 Use your favourite Pancake Recipe. I used Mini Pumpkin Pancakes or:
2 cups Flour
2 teaspoons Baking Powder
1 teaspoon Baking Soda
1/2 teaspoon Salt
4 Tablespoons Sugar
1 1/3 cup Milk (or Almond Milk)
4 Tablespoons Maple Syrup
2 large Eggs
4 Tablespoons Vegetable Oil
1 1/2 teaspoons Vanilla
Preheat oven to 350F.
Lightly spray 4 mini muffin tins; set aside.
In a large mixing bowl whisk together flour, baking powder, baking soda, salt and sugar, if using.
In a small mixing bowl whisk together milk, eggs, vegetable oil, vanilla and maple syrup, if using.
Add liquid ingredients, all at once, to dry ingredients and stir just until combined; a few lumps may remain.
Evenly scoop batter into prepared muffin tins up to 2/3 full.
Bake in 350F oven for 10 – 15 minutes or until golden brown.
Remove from oven and let rest in pans on wire racks for a few minutes.
Remove from muffin tins to cool completely or serve immediately with maple syrup, berry sauce or simply as is.