Alright, so normally I look at a recipe, think about the flavours, presentation, etc and then change it up to suit our needs. I must confess, having been, and continuing to be a Vegetarian for over 30 years, I feel like a fish out of water when it comes to cooking Meat products which is why I followed this recipe for Chicken Bombs, pretty much to the T.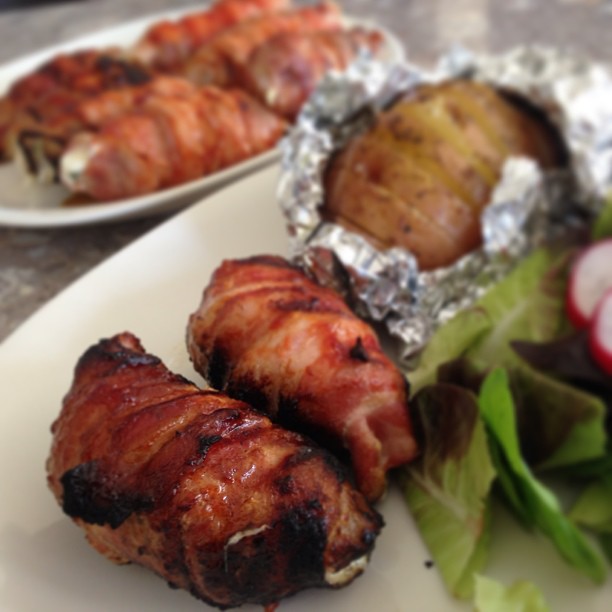 5 boneless, skinless Chicken Breasts
– or Fast Fry Chicken Breasts
2 Jalapenos, cut into 10 strips
20 slices Bacon
4 oz Cream Cheese, softened
1 cup Colby or Jack Cheese, shredded
Salt and Pepper, to taste
1 cup BBQ sauce
Preheat Grill to 350F.
Combine cream cheese and shredded cheese together and set aside.
Slice Chicken Breasts in half.
(I got a package of the Fast Fry Chicken Breasts which were pretty thinly sliced so I got to omit the first step.)
Place between wax paper and pound until about 1/4″ thick.
Season with Salt and Pepper.
Spread about 1 Tbspn of cream cheese mixture onto a strip of jalapeño  and place on chicken breast; roll up to wrap completely – repeat with each chicken breast.
Wrap each chicken breast with two strips of bacon each, starting at one end of chicken breast and working your way along to cover the entire thing with bacon.
Cook on preheated 350F Grill over indirect heat, turning over every 5 minutes, brushing with BBQ sauce each time, for about 30 minutes or until chicken is done – when pierced with a fork the juices run clear.
You can also bake these in the oven:
Bake in 375F oven for 30 minutes or until chicken is done.
Turn midway through cooking time, baste with BBQ sauce.
At the end of the cooking time, turn oven to Broil and Broil for about 3 minutes.
Serves 5