My husband was recently required to bring a Pot Luck dish to a belated Christmas work gathering. Initially I was thinking I would send along a Vegetarian Lasagne but then I saw the sign up sheet… Seems Luke's workmates like Indian!  The Sign Up sheet looked a bit Meat Heavy so I volunteered Lightly Spiced Indian Rice with Peas, Quick Curried Vegetables and Naan.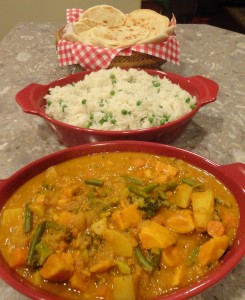 1 Tablespoon Olive Oil
1 large Onion, chopped
1 (398ml) can Coconut Milk
1 cup Water
1 McCormick's Vegetable Stock Cube
3 Tablespoons Tomato Paste
3 Tablespoons Curry Powder, or to taste
1 teaspoon Cumin
1 teaspoon Turmeric
1 teaspoon Chili Flakes
1 Sweet Potato, peeled and cubed
2 Potatoes, peeled and cubed
1 cup Green Beans, fresh or frozen, cut into 1″ pieces
1 small Cauliflower, cut into small florets
Substitute in Broccoli, if you wish
1/2 cup Green Peas, frozen
1/4 cup Cilantro, chopped
1 – 2 Tablespoons Lime Juice
Heat oli in large saucepan over medium-high heat.
Add onion and cook for about 5 minutes, until lightly browned; stir frequently.
Add coconut milk,water and vegetable stock cube.
Whisk in tomato paste, curry powder, cumin, turmeric and chili flakes.
Bring to a boil.
Add sweet potato, potato; reduce heat to medium, cover and cook for 15 minutes or until potatoes are still firm but almost done.
Stir in green beans, cauliflower (broccoli, if using); cover and cook for an additional 5 minutes or until vegetables are crisp tender)
Remove from heat and stir in frozen green peas, cilantro and lime juice.
Season to taste with salt and pepper.
Serve with steamed Basmati Rice or Naan.
Serves 6