I love the rice we get when we go out for Indian so I have tried to make my own version at home.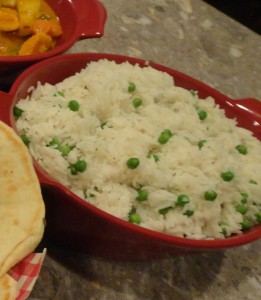 2 cups Basmati Rice
3 1/2 – 4 cups Water
1 teaspoon Turmeric
1 teaspoon Cumin, ground
1 Tablespoon Butter
1 1/2 teaspoon Salt
1 teaspoon freshly ground Black Pepper
1 cup Frozen Peas
In medium size saucepan with tight fitting lid combine rice, water, turmeric, cumin, butter, salt and pepper.
Bring to a boil; reduce heat, place lid on saucepan and cook for 15 minutes.
Briefly remove lid, add frozen peas, replace lid and continue cooking for another 3 minutes.
Remove from heat, fluff rice with fork.
Serves 6