I make Pulled Pork quite often and end up with tonnes of left over Pulled Pork; there are only so many Pulled Pork Sandwiches Luke can consume! I was delighted when this recipe for Easy as Tamale Pie from Kitchen Meets Girl came through Ay Sontespli's Kitchen !
I used to make a Tamale Pie from a recipe that I found in one of those Canadian Living Mini Cookbooks that, for a limited time, you used to be able to get when you filled up at Petro Can…I have long since lost the cookbook, to my dismay;  I have tried a few times to make Tamale Pie from memory which meh, sort of worked?  Anyway, I do think my problem has been solved with the discovery of this recipe.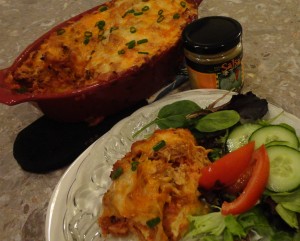 3 ounces Butter, melted
1 cup Cornmeal
3/4 cup Flour
1 Tablespoon Sugar
1 1/2 teaspoons Baking Powder
1/2 teaspoon Baking Soda
1/4 teaspoon Salt
2 Eggs, lightly beaten
1 1/2 cups Buttermilk*
1 (440ml) can Tomato Sauce
1 Tablespoon Epicure's Poco Picante Salsa  Mix
1 1/2 teaspoons each: Oregano, Basil, Parsley
1 teaspoon ground Cumin
2 cups shredded pork
1 Tablespoon Epicure's Poco Picante Salsa Mix
1 cup shredded Cheddar Cheese or Tex Mex Cheese
Chopped Cilantro
Chopped Green Onions
Preheat oven to 400F.
Lightly grease a 9″x9″ pan; set aside.
In a large bowl combine cornmeal, flour, sugar, salt, baking powder and baking soda.
In another bowl whisk together eggs, buttermilk and melted butter.
Pour the liquid ingredients into the dry ingredients and stir just until combined, the batter may be lumpy.
Pour batter into prepared baking dish.
Bake for 20 minutes.
While cornbread is baking, combine tomato sauce, Epicure's Poco Picante Mix, oregano, basil, parsley and cumin together in a small bowl or large measuring cup; set aside.
In another small mixing bowl combine shredded pork with Epicure's Poco Picante Mix; set aside.
Remove cornbread from oven after 20 minutes; it won't be quite set in the centre….that's okay.
With a fork, poke holes all over the top of the cornbread.
Pour tomato sauce mixture over crust.
Evenly spread shredded pork over tomato sauce topped crust.
Top with shredded cheese; cover with foil and return to oven for an additionally 20 – 30 minutes, or until cheese is melted and cornbread is cooked through. (test by inserting clean knife in the middle, it should come out without goopy cornmeal on the end of the knife)
Remove foil and bake for another 5 minutes.
Remove from oven, top with chopped cilantro or chopped green onions and allow to cool for 10 minutes before slicing.
Serve with Tossed Green Salad, Guacamole and Sour Cream
* if you don't have Buttermilk on hand, pour 1 Tablespoon Lemon Juice into a measuring cup then add enough milk to measure 1 1/2 cups; let sit for 10 minutes.
Serves 6