I recently cleaned out my fridge freezer; waaaay too many gooopy bananas in there! I usually make Banana Bread but well, I had enough for Banana Bread AND something else. My Cookie Jar has been empty since the Christmas Bake Off so I thought this might be a good time to fill it up again. Google to the rescue…again.
I found this recipe for Peanut Butter and Banana Cookies over at AllRecipes, clicked on it, was NOT phased by all the ingredients listed by metric weights, owing to the fact that I have a lovely lil digital kitchen scale that I ALWAYS use to measure butter and shortening and anything I don't like scraping out of a measuring cup!
Did I mention that I had oodles of gooey banana muck in the freezer? Enough to double this recipe and still have a bit leftover for a lunchtime smoothie; I really must remember to use up my frozen bananas more often! This particular recipe might just be the answer! The cookies are crunchy and yummy like a peanut butter cookie while also being chewy like a perfectly baked chocolate chip cookie….oh yea, I added extra Chocolate Chips and a handful of Butterscotch Chips to the recipe…Yum!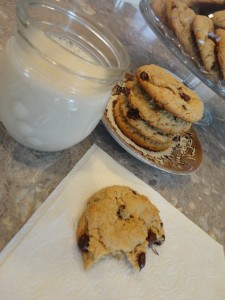 250 g (1 cup) mashed Banana
260 g (1 cup) Peanut Butter
140 g (1/2cup)Brown Sugar
200 g (1 cup)Sugar
1 1/2 teaspoons Vanilla
330 g (1 1/4 cup) Flour
1 Tablespoon Baking Powder
1 teaspoon Salt
80 g (1/2 cup) Chocolate Chips
50 g (1/3 cup) Butterscotch Chips
* My conversions to standard cup measures are APPROXIMATE – for best results, please do use the metric measures on a kitchen scale.
Line 4 baking trays with parchment paper.
Preheat oven to 375F. (190C)
In small mixing bowl combine flour, baking powder and salt.
In standard mixing bowl, on low speed, mix together banana and peanut butter until well blended.
Add brown sugar, sugar and vanilla; beat for 2 minutes.
Stir in dry ingredients until no flour remains.
Fold in chocolate and butterscotch chips.
Using a #3 scoop, drop cookie dough onto prepared baking trays.
Bake in 375F oven for 12 – 15 minutes, rotating trays half way through baking time.
Allow cookies to cool on baking tray for 5 minutes before removing to wire rack to cool completely.
Yield: 3 dozen large cookies
I used Weekend Bakery's conversion chart to estimate the standard measurements.