This came through my newsfeed when I was staying in Kamloops. I decided I HAD to make it! Checked the pantry, had all the ingreds so def a go!
I leave out the tostados because I don't feel that it needs it…
I use Yves Just Like Ground Round so it cooks up super quick!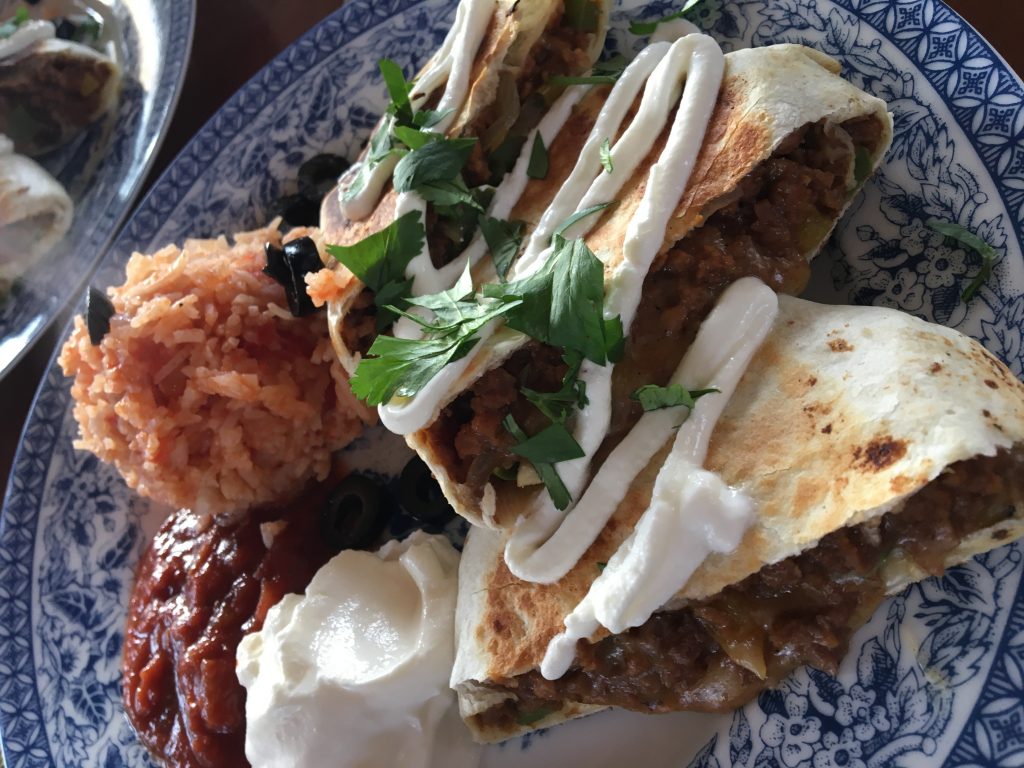 5 Large Flour Tortillas
1 package Yves Just Like Ground Round
Veg Oil, to coat pan
Large Onion, sliced thinly
1 Green Pepper, sliced thinly
3 Tablespoons Taco Seasoning
6 ounces Grated Cheese – Cheddar, Jalapeño Cheddar, Monterey Jack – your choice or a combo
1 Tomato, diced
Half a head of Iceberg Lettuce, shredded
2 Green Onions, green part only, sliced
Black Olives, sliced
Sour Cream, to drizzle over top
Salsa, to drizzle over top
Avocado, chopped
Heat Cast Iron skillet over medium heat, add enough veg oil to coat one side; plop Just Like Ground Round on top and let it crisp up before turning over to brown second side.
Once flipped over, add half the shredded cheese and let cheese melt into the "ground round".
Meanwhile, on the second side of the skillet, add a bit more veg oil and add thinly sliced onions and peppers; cook until soft and onion is translucent.
After the cheese has melted into the "ground round" portion out between the five flour tortillas, placing the mound of "ground round' in the center of each.
Top with sautéed onion/pepper mix.
Fold edges of flour tortilla in over the filling, rotating and folding as you rotate the tortilla, pressing gently as you go.
In wiped out skillet, over med-low heat, place loaded wrap, folded side down, and heat until the tortilla is lightly browned and the edges have all fused together. Flip over and cook until second side is lightly browned.
While the wraps are browning, prepare your plates:
Place a mound of shredded lettuce on the center of the plate; to one side of salad, add a dollop of each:  sour cream, salsa and chopped avocado.
Both sides of Loaded Wrap browned, place one on the bed of lettuce and drizzle with sour cream and salsa; sprinkle with diced tomato,  sliced black olives, and sliced green onion.
Serve warm.
These are also very good as leftovers, cold or warmed up.