When we first got our Lab/Shep cross we often gave him treats when we were training him. Buying wholesome treats became pretty expensive! Then I remembered seeing a recipe for Dog Biscuits in a Canadian Living magazine, not that I could remember which issue; so I googled it and was pleased to find what would become a regular for Bear.
One time I went to make the biscuits, clicked on the saved bookmark and ACK! The recipe was missing! I quickly sent off an email to Canadian Living begging them to look into it; at first I thought maybe they had found the recipe was not suitable for dogs or something but they were quick to send back a response and the recipe was back online. Now I know it would be easy to just always google Doggy Treats but sometimes when I find a recipe that I really like, I prefer to stick to the tried and true. I swore I was going to get the Canadian Living recipe up on my page ASAP so I would never have to worry about finding it missing again….a year later and well, here it is, finally on my site. The biscuits do keep well in an airtight container so  I always double the original recipe and here on my site I give you the doubled amounts.
Oh, tried and true or not, I do like to experiment a little so I have also added some add ins that Bear has liked.
Thanks Canadian Living for a great recipe for an important member of our family!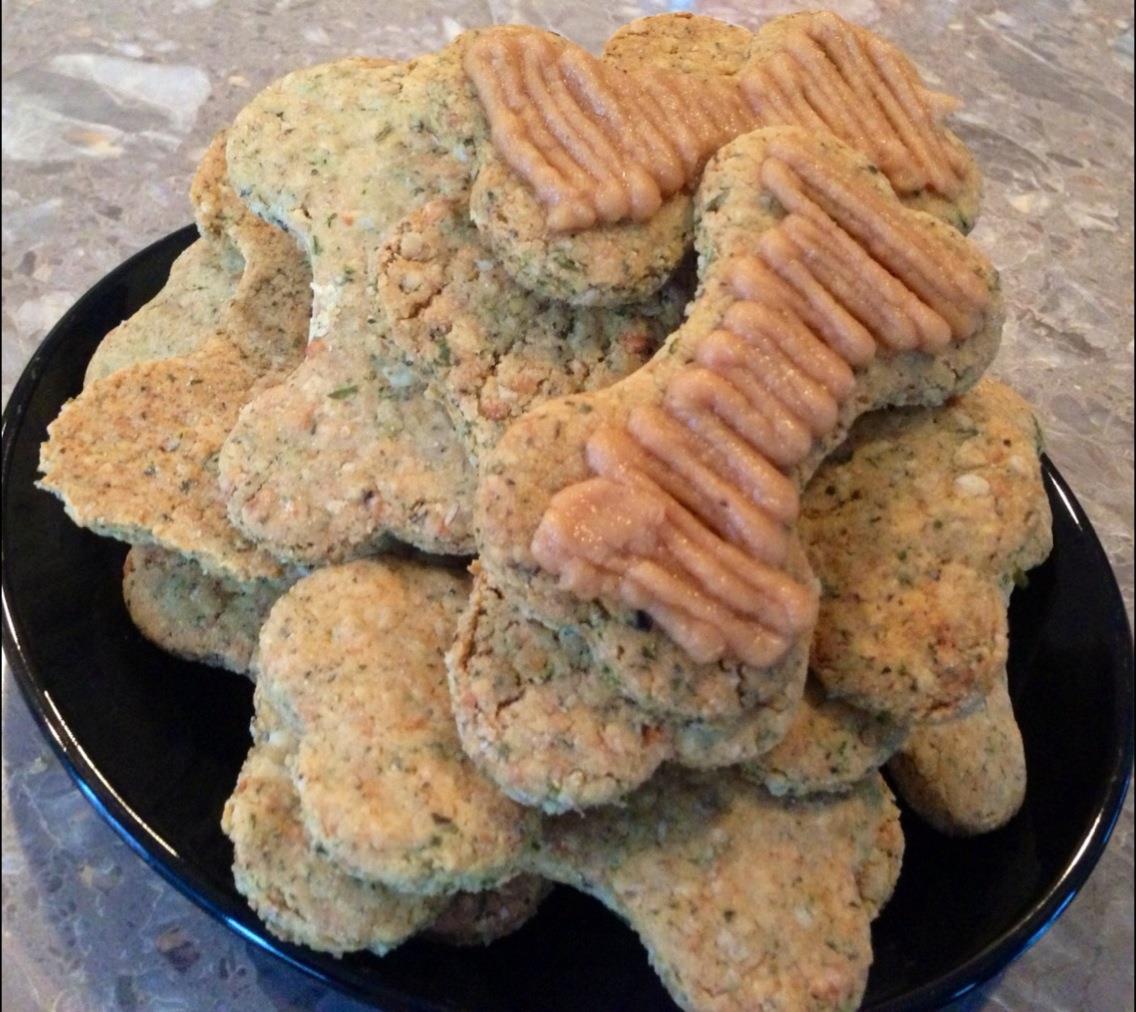 1 cup Flour
1 cup Whole Wheat Flour
2 cups Rolled Oats
1 1/2 cups Cornmeal
1/2 cup Packed Brown Sugar
4 teaspoons Baking Powder
1 teaspoon Salt
1/2 cup Butter, softened (I sometimes sub in a bit of Bacon Fat)
1/2 cup Peanut Butter
4 Eggs
1 Tablespoon dried Mint
2 Tablespoons dried Parsley
1 cup shredded Cheese (optional)
4 strips cooked Bacon (optional)
1 Apple, shredded (optional)
Preheat oven to 325F.
Line 4 baking sheets with parchment paper.
In medium mixing bowl combine flours, oats, cornmeal, brown sugar,  baking powder and salt; set aside.
In mixing bowl beat together butter, peanut butter; add eggs, one a time then cream until smooth.
On low speed, stir in dry ingredients, mint, parsley and any optional ingredients to make a soft dough.
Turn out onto floured surface and knead until it all comes together; divide into two portions.
Roll out one portion of dough to  1/2″ thickness and cut with bone shaped cookie cutter.
Arrange on prepared baking sheets; you can put them pretty close together.
With second portion, again roll out, but directly onto a piece of parchment paper, into an 8″x11″ rectangle.
Trim rough edges; using a sharp knife, cut into small rectangles but do not separate.
Roll scraps and cut more bone shaped biscuits.
Bake in 325F oven for 35 – 40 minutes, until golden and firm; I start checking on them at 25 minutes, removing those that look like they are cooked through.
Transfer to wire rack to cool completely.
With the 8″x11″ sheet, break along cuts to make treats to stuff into Kong toys or to have on hand when you go out for a walk.