Just another RAINY Winter day in the Fraser Valley of British Columbia! We have more than our fair share of them! Cold, blustery  Winter days call for hot soup!
I had a bit  of pot barley feeling all lonely in the back of the pantry, a bounty of lovely green kale in the fridge along with some mushrooms that I wanted to use up. I googled Mushroom Kale and Barley Soup and found myself at Taste Food's recipe for Mushroom Barley Soup with Miso and Kale. I only had BC White Mushrooms on hand and will definitely make this recipe again using a variety of mushrooms!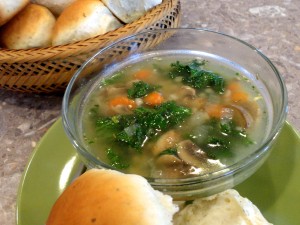 1 Tablespoon Olive Oil
1 Onion, diced
2 cloves Garlic, minced
8 ounces Mushrooms, assorted variety, sliced
4 Fresh Garden Carrots, scrubbed and thinly sliced
1 cup Barley
1 teaspoon dried Thyme
8 cups (2 litres) Vegetable Stock
*I use 8litres of water and 4 McCormick All Vegetable Stock Cubes
1 Bay Leaf
1 teaspoon Freshly Ground Black Pepper
3 cups Kale leaves, stem removed and leaves chopped
1 Tablespoon Red Miso Paste
Heat oil in a large pot over med-high heat.
Add onion and sauté for a few minutes.
Add  minced garlic, mushrooms, and carrots;   sauté for another 2 – 3 minutes.
Add barley and thyme; stir to coat.
Add stock, bay leaf and pepper.
Bring to a boil; reduce heat and simmer, partially covered, until barley is tender – about 30 minutes.
Stir in kale.
Continue cooking until kale turns bright green and wilts, about 2 minutes.
Remove from heat and stir in miso paste.
Serve hot.
Serves 4 – 6