Without a doubt one of the best home made chocolate cake recipes I have come across.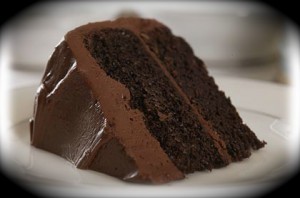 Preheat oven to 350F.
Lightly spray a 9×13 baking pan with Vegetable Oil spray and dust lightly with flour.
2 x 8in Round pans
12 cup Bundt cake pan
Line 24 Muffin Cups with paper liners
In small mixing bowl, combine and set aside:
1 2/3 cups Flour
2/3 cup sifted Cocoa
1 1/2 teaspoon Baking Soda
1 teaspoon Salt
In large mixing bowl, cream together:
1/2 cup Shortening
1 1/2 cups Sugar
Beat until light and fluffy then add:
2 eggs, one at a time and beating well after each addition
Stir in:
1 1/2 teaspoons Vanilla
Continue beating for another minute.
Gradually stir in dry ingredients alternating with:
1 1/2 cups Buttermilk
Beginning and ending with Dry Ingredients.
Beat for 2 minutes on Medium speed, scraping sides of bowl occasionally.
Pour batter into prepared pan(s).
Bake until wooden pick inserted comes out clean: 35 minutes for 9×13 or 8″Rd, 40 – 45 for Bundt, 18 – 20 for Cupcakes.
Remove from oven, cool in pan for a few minutes before turning out onto wire racks to cool completely.
Frost with Chocolate Buttercream Frosting.