I have a falafel recipe somewhere but it seems to have gotten lost in all the moving around we have done over the years. I googled "falafel recipes" and ended up at Food.com where I found this recipe by justcallmetoni
I read a few of the reviews and admittedly, the first time I made these I didn't have any cilantro or parsley in the house! I subbed in a bit of dried parsley and a bit of coriander; they were amazing! Second go around, I had cilantro but no parsley…I really need to get my act together! I had my doubts about the green falafel. I thought my boys might not like it but they proved me wrong. The next time I make this it is my goal to have both fresh parsley and fresh cilantro on hand!
Sometimes I make falafel and serve it with Bombay Rice and a green Vegetable; sometimes I make it and serve it in a wrap. You can make this recipe and use the resulting falafels quite successfully, either way!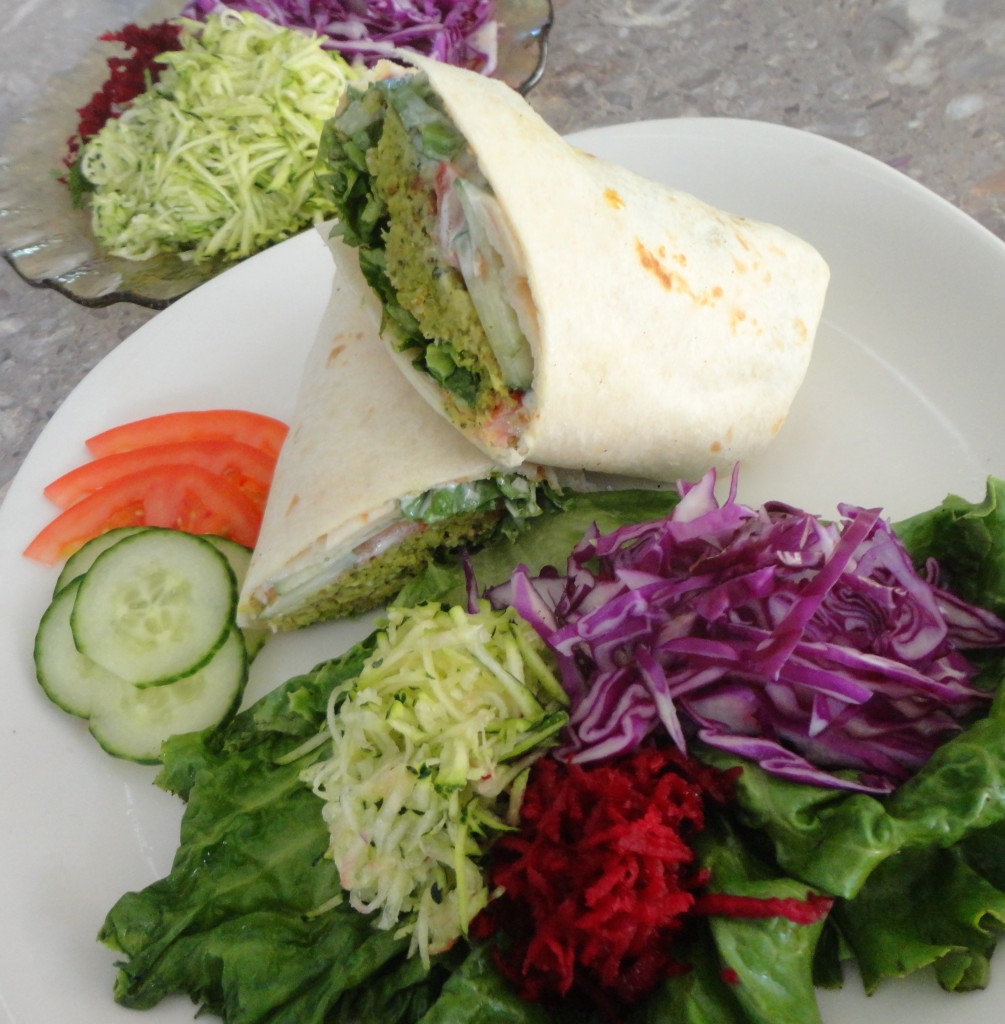 1 Tbsp (15ml) Olive Oil
1 small Onion, finely diced
1 clove Garlic, minced
1 – 14 oz (398ml)  can Chick Peas
1 cup (250 ml) loosely packed Cilantro
1 cup (250 ml) loosely packed Parsley
1 cup (250ml) cooked Brown Rice*
1 teaspoon (5 ml) Curry Powder
1/4 teaspoon (1 ml) Cayenne Pepper
1 Tablespoon (15 ml) Fresh Lemon Juice
3/4 cup (175ml) Breadcrumbs
Serve alongside Rice and Veg for a complete Meal
or
Serve in a Wrap or Pita with Lettuce, Tomato, Cucumber, Tzatziki
Method:
Heat oil in a skillet over med-high heat.
Saute onion for a minute or two; add garlic and continue sautéing until onion is soft and garlic is golden, about 4 minutes, total.
Let cool.
Place sauteed onion in food processor; add chickpeas and pulse to coarsely chop the beans.
Add cilantro, parsley, rice, curry and cayenne; pulse until all ingredients are finely chopped and evenly distributed.
Turn the mixture into a bowl.
Stir in lemon juice and 1/4 cup (50 ml) of the breadcrumbs.
Pour remaining breadcrumbs onto a plate.
With your hands, mix chickpea mixture until it is like a moist dough.
Scooping up 1/4 cup (50ml) at a time, form the chickpea mixture into patties.
Coat lightly in the remaining breadcrumbs.
Repeat, making 8 – 3 inch (7.5cm) patties.
Heat  cast iron skillet.
Brush lightly with oil.
Place the patties in the skillet, about an inch (2.5 cm) apart.
Cook 4 minutes, until lightly browned.
Turn and cook another 4 minutes, until second side is lightly browned.
Serve immediately alongside Bombay Rice and a Green Vegetable of your choice or in a Wrap or a Pita with thinly sliced Tomatoes, Cucumber, Shredded Lettuce and Tzatziki.
Serves 4 – 6
*I  have used plain white rice because it is what I had on hand.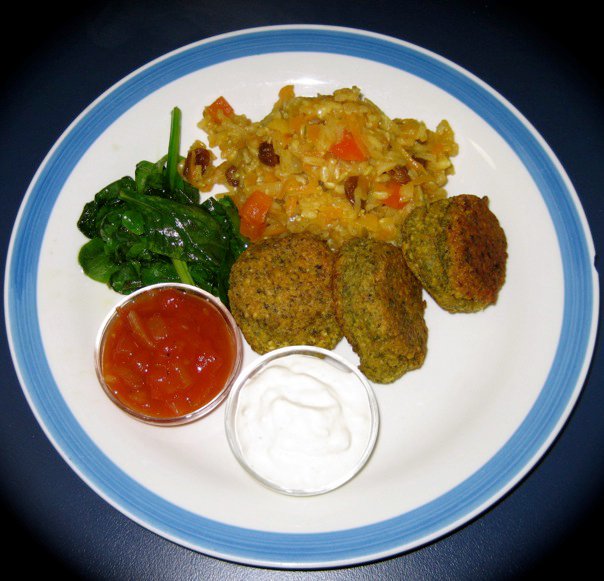 Or you can just throw 'em on top of some Salad! Oh, Falafel, you are so versatile!