I follow Oh My Veggies on Facebook which lead me to their website where I was searched for a meatless meal to make for our Whatever! We Can Do Without Meat Wednesday. Now typically, I am not a fan of tofu; I know, weird, right? A Vegetarian who doesn't like Tofu. It's the texture of the stuff. And the appearance of it. And the feel of it when you take it out of the package. I am grimacing as I type this…too many vivid thoughts about Tofu. But hey, this recipe made it taste sooooo good! Once I got through all the hurdles: got it out of the package, sliced and got it marinating,  it was easy street after that! And I am pleased to say that it was VERY easy to eat! Too easy! I could easily have had seconds!
Now, of course, I was missing half the ingredients, but I never let that stop me from trying something new! I used what I had on hand: subbed in julienned carrots for red pepper, edamame for the broccoli, yellow pepper just because I had it. And  guess what? Last night when I went grocery shopping? I bought more tofu just so I could make this again!!   Are you now convinced this is good? Go on, give it a go!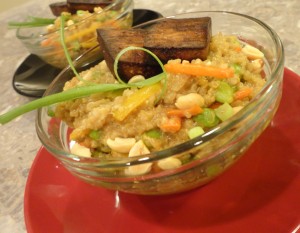 3 Tablespoons Soy Sauce (or Tamari)
1 Tablespoon Maple Syrup
1 Tablespoon Olive Oil
1 clove Garlic, mashed
Pepper
1 (425g) package Extra Firm Tofu, drained, pressed for 30 minutes and cut into 8 slices.
1/2 cup Quinoa
1 teaspoon Olive Oil
1 small Red Pepper, diced
1 small crown of Broccoli, cut into small florets
2 Tablespoons Peanut Butter
1 Tablespoon Water
1 Tablespoon Lime Juice
1 teaspoon Soy Sauce (Tamari)
1/2 teaspoon Brown Sugar
1/2 teaspoon fresh Ginger, grated
Salt and Pepper, to taste
Splash of Sriracha, to taste
4 slices Baked Tofu (recipe above)
2 Tablespoons Roasted Peanuts, chopped
Green Onions, garnish
30 minutes to Overnight before you want to make this recipe, prepare the Tofu Marinade:
Whisk together soy sauce, maple syrup, olive oil, garlic and pepper in a large zip lock freezer bag.
Lay the tofu in the bag, seal, transfer to fridge and let marinate for 30 minutes or longer, flipping over at least once.
The tofu should soak up almost all of the marinade.
Preheat oven to 400F.
Line a baking tray with parchment paper.
Place tofu on prepared baking tray and bake for about 40 minutes. or until edges are dark and tofu is chewy, turning over halfway through the cooking time.
While the tofu is baking, prepare the Quinoa according to package directions. (1:2 Quinoa: Water; cook for 15 to 20 minutes)
Depending on what I am making, I might use Vegetable Broth instead of Water to cook the Quinoa for extra flavour in the finished product.
While quinoa is cooking, heat the olive oil in a medium skillet over medium-high heat.
Add the red pepper and cook for a few minutes, until softened.
Transfer to a mixing bowl.
Add the broccoli to the skillet with a bit of water, cover with tight fitting lid and steam for just a couple of minutes.
Transfer broccoli to mixing bowl containing the red pepper.
In a pyrex measuring cup or a small bowl combine peanut butter, lime juice, water, soy sauce, brown sugar, ginger,sriracha,  salt and pepper; whisk until smooth.
When quinoa is cooked, transfer to mixing bowl containing prepared veggies; toss everything together with the peanut sauce.
Divide quinoa into two bowls, top each with 2 slices of baked tofu, chopped peanuts and chopped green onions,
Serves 2